Come and enjoy our freshly prepared and cooked food made daily and see for yourself why Hagerstown is talking about Alekos 2 Go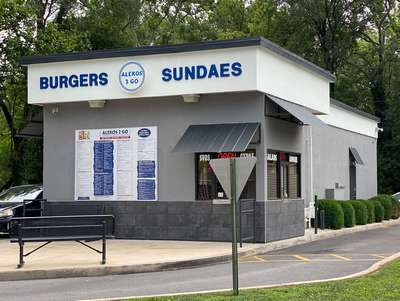 We cook everything to order, whether you drive-up, walk-up, fax or call in ahead your order. From our authentic Greek corner specialties to our American overstuffed subs, triple-decker sandwiches, bistro-style sandwiches, freshly cut romaine leaf lettuce salads, our delicious seasonal homemade soups and chili, breakfast sandwiches served all day, hand-dipped ice cream, pita pizzas and a tasty selection on the kid's menu. Our menu is so huge, there's something for everyone's taste buds.

Our mouth-watering hand carved off the rotisserie traditional gyro is the best in town. Traditional gyro is seasoned lamb and beef and we also have our seasoned chicken gyro. Souvlaki and shish kabobs are marinated chunks of chicken breast that melt in your mouth.
We have a wide variety of home-cooked / made items such as: angus roast beef, spanakopita, tiropita, white albacore tuna, taramosalata (greek caviar), soups, and chili just to name a few.

Who would have thought one can get such a spectacular selection in a drive-thru. Stop on by and try us, you won't be disappointed because: At Alekos 2 Go....its our aim to please you,
"If you are pleased tell others, If not tell us"
Dawn Frederick, MD
---
The food at Alekos is absolutely divine especially the Spanakopita and the Veggie Gyro.
Matt Frederick, MD
---
Wonderful owners that take the time to assure all food is made to perfection. The baklava is out of this world!
Alan Funkstown, MD
---
YES! Lots of variety on the menu, and everything we ordered was fantastic. We placed our order at the walk-up window and ordered to-go. My gyro was delicious; I can't wait to get back for another visit.
Jennilynn H. Hagerstown, MD
---
Don't let the drive-thru facade fool you -- this place has amazing food. The Greek Fries (fries with feta & garlic & oil) and the chicken gyro are my faves
Larissa Middletown, MD
---
There's nothing better than an authentic Greek meal made with love by a wonderful Greek family - and that's exactly what you get at Alekos 2 Go. Their Greek specialties are absolutely delicious, whether you fill up on a traditional lamb gyro or try a vegetarian option like the spanakopita or black bean gyro. Plus, they have plenty of hearty American-style meals on the menu to satisfy everyone in your family. Alekos 2 Go definitely raises the bar for drive-thru eating!